Telephone Numbers and Voice Mail Worldwide
Create a Local Presence in any of 64 Countries with Local
telephone numbers that ring directly to you and take your messages
as little as USD$8.95mo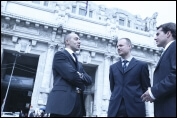 Whether you already do business internationally, or are hoping to start, Segway can help you create your local presence by supplying telephone numbers in 64 countries worldwide. And they can be working immediately.
Be it the UK, Japan, Mexico or any of the countries listed below, Segway has regular telephone numbers in thousands of cities worldwide. Your International Telephone Number traffic can be managed locally, or it can ring directly to your landline, mobile phone or broadband phone, wherever in world you or your office is located.
International Telephone Numbers outside the US are
as little as USD $8.95mo1
Turn your International Phone Number into a Complete International Virtual Office with an Auto Attendant and extensions, including a Dial by Name Directory for as little as $19.95mo. Callers can be transferred to you anywhere in the world for a small per minute rate.
Call Segway today at
877-SegwayCom
(877.734.9292)
International +1.310.478.4949
ALGERIA
ARGENTINA
AUSTRALIA
AUSTRIA
BAHRAIN
BELGIUM
BRAZIL
BULGARIA
CANADA
CAYMAN ISLANDS
CHILE
CHINA
COLOMBIA
COSTA RICA
CROATIA
CYPRUS
CZECH REPUBLIC
DENMARK
DOMINICAN REPUBLIC
EL SALVADOR
ESTONIA
FINLAND
FRANCE
GEORGIA
GERMANY
GREECE
GRENADA
GUATEMALA
HONG KONG
HUNGARY
IRELAND
ISRAEL
ITALY
JAMAICA
JAPAN
LATVIA
LITHUANIA
LUXEMBOURG
MALAYSIA
MALTA
MEXICO
NETHERLANDS
NEW ZEALAND
NORWAY
PANAMA
PERU
POLAND
PORTUGAL
PUERTO RICO
ROMANIA
SINGAPORE
SLOVAKIA
SLOVENIA
SOUTH AFRICA
SOUTH KOREA
SPAIN
SWEDEN
SWITZERLAND
TRINIDAD & TOBAGO
TURKEY
UNITED KINGDOM
UNITED STATES
VENEZUELA
VIETNAM
1Rate may be slightly higher in some countries. Plus installation charge, applicable taxes and regulatory fees.